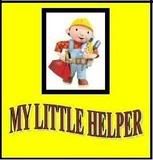 The link to this contest:
http://wanfida.blogspot.com/2010/01/contest-my-little-helper.html
This is the first contest here in this new blog dedicated mainly for online contest.
tengoklah nama blog pun crazy about contests.hehe
I've been eyeing about this contest for few days before I managed to snap photos of my little helper.
After a careful thoughts, I've choosen this photo:
Little helper's name: Hafizah bt. Ariff

Age: 2 years 6 months.

What my little helper's doing?: She was helping me to stir a sour cream icing

that I wanted to use to ice her big sister's birthday cake. After helping

with the stirring, as usual she helped to lick the bowl! hehe