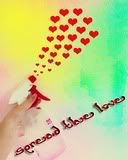 Miss Iqafi has organized this contest on her personal blog and I'm interested to try my luck in this contest. As the photo has to an affectionate photo, I guess this photo is quite suitable:
Here is a little description abt the photo:
This is a photo of my hubby and our second daughter. It was taken when Hafizah was fast asleep while my hubby was holding her in his arms.